Since 2006, more than 35 organizations around the world have developed their own unique community programs expanding on and duplicating the Café Plus model. See below to learn more about the varied organizations and communities that are benefiting from the exceptional quality of interaction, service, and support the Café Plus model makes possible.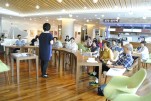 Songpa Silverttrack - Seoul, Korea
Songpa Silverttrack opened its doors in Seoul, Korea, offering older adults and their families a café, wellness center, education center, day care, and beauty center. A public-private cooperative effort, this center is now a benchmark for some local governments.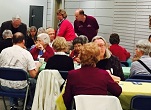 Ethel & Maud's Table - Urbana, Illinois
Opened in spring 2015 and supported by Clark-Lindsey, a local not-for-profit Continuing Care Retirement Community, this "Café without Walls" offers opportunities for friendship and growth to locals age 55 and better. Their main attraction so far: monthly themed luncheons with live entertainment, held in a conference room in a local mall.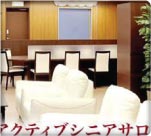 Yu-Yu Chiteki – Nagoya City, Japan (about 300 miles from Toyko)
Opened by Hiroyuki Murate, this is Café Plus's first international site. Named after Yu-Yu Chiteki—a professor at Tohuku University and CEO of the Center for Studies on Aging Sciences—this location embodies the essence of the Café Plus model as a "third place," after home and work. Yu-Yu Chiteki is a place where those 55 and better can be themselves, feel safe and comfortable, immerse themselves in social activities, and explore their passions in a communal environment.
"It's a place where you feel you want to go whenever you happen to have free time. It's a place where you happen to meet people, to make friends, and to have tea with people you meet in there. It's a part of their lives and it enriches their lives."
"The New Type of Senior Salon—aiming to become the Japanese version of Café Plus." —Nikkei BP, 2006.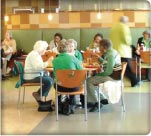 Carrie's Café – Columbus, Ohio
Just one part of Lifecare Alliance's efforts to support the Columbus community, Carrie's Café, in addition to a full-service restaurant, has a wellness center onsite with programs such as chair yoga, tai chi, and more. The café also provides nutritious, pre-portioned meals at minimal cost for those who qualify.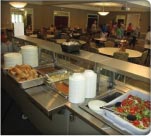 The Ultimate Café – Fayetteville, Georgia
The Ultimate Café is run by Fayette Senior Services, a non-profit organization that provides a broad scope of life-enhancing services to residents age 50 and better. This membership-based café concept makes healthy, local, great-tasting food that is easily accessible to the community in partnership with producers from the Fayette County Master Gardeners. This program has inspired over 40 other programs in the Fayetteville area.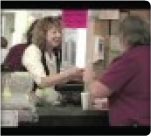 School House Grill – Alton, Illinois
Offering meals Monday through Friday at their dining site, this café concept received a grant from their local Area Agency On Aging to help with building renovations. Extended hours, breakfast specials, and an added à la carte menu have all helped expand the café's demographic to the community at large.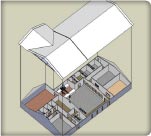 East Mesa Sage Café – Las Cruces, New Mexico
Part of a growing multigenerational center, the East Mesa Sage Café facility consists of space dedicated to programs, meal services, and activities.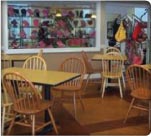 Plainville Senior Center – Plainville, Connecticut
The hub of the Plainville Senior Center, this café concept, open two days a week to the general public, is run entirely by volunteers—right down to the food preparation, menu planning, cashiering, and cleaning. In addition to volunteers, municipal workers, friends, and family contribute to its success. The café also relies on contributions from a nearby high school for special-needs students who get on-the-job training experience in the café. Meal specials can be unique; they intend to encourage adults to try new things (i.e., goat cheese tart). A nutrition program works out of the kitchen, as a separate addition of the café. Plainville Senior Center says business is booming!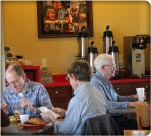 Campbell Street Café – Valparaiso, Indiana
Run by the not-for-profit organization Pines Village Retirement Communities Inc., Campbell Street Café "has taken the neighborhood coffee shop one step further and created a place where people of all ages can stay connected." In addition, all tips are donated to charities that provide assistance to older adults.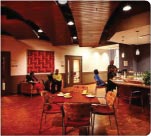 Atlanta Housing Authority – Atlanta, Georgia
The Atlanta Housing Authority has used the Café Plus model to transform 11 of their public senior housing properties both physically and programmatically into aging-well communities.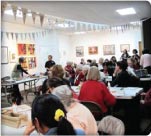 Ruth's Table, Bethany Center – San Francisco, California
Ruth's Table is the arts and wellness space located on the ground floor of Bethany Center Senior Housing. For over 40 years, Bethany Center has provided housing for older adults living in San Francisco's Mission District. Using the Café Plus model as a framework, Ruth's Table built a community space around art. Ruth's Table offers a diverse list of programs, including art workshops, gallery shows, tai chi, yoga, dance workshops, and musical performances.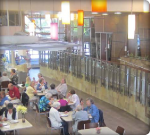 Café Evergreen, Millcreek Community Center – Salt Lake City, Utah
Serving customers of all ages, Café Evergreen is the life of the Millcreek Community Center, which is owned and operated by Salt Lake County. The senior center within the community center also serves as a nutritional site.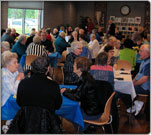 Soprema Café – Wadsworth, OH
Opened in March 2013, the Soprema Café, located in the Wadsworth Soprema Senior Center, was an instant hit with young and old alike. Thanks to its dedicated partners, the café offers not only fresh and tasty food, but ample life enrichment opportunities for a diverse population. By utilizing the Café Plus model, the center serves as a focal point for older adult programming in the greater Wadsworth community.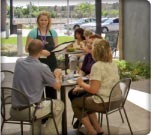 Birt's Bistro and Bookstore – Surprise, Arizona
Open since 2009, Birt's Bistro and Bookstore puts a literary twist on the Café Plus model with the unique addition of a used bookstore. Birt's has become a popular event space featuring live performances by local musicians twice a week. The café is also a valued community resource featuring communal classrooms as well as social workers' offices.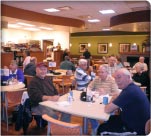 Tanglewood Café – Muskegon, Michigan
Tanglewood Park opened in 2008, offering four unique areas of service, including a café and coffee shop open to employees and the public. It operates as a congregate meal center within the hub of the Wellness Center, and is open for breakfast, lunch, and dinner.  The café is trying fresh, to-go convenience options at other senior meal centers to complement the meals, and will ultimately offer more choices to seniors.
Ready to start your own Café Plus?

Join us for an intensive, two-day workshop where you will:
Learn how to identify market needs and measure customer satisfaction, participation, and involvement;
Get tips on budgeting and staff training; and much more!
Included in the workshop fee—receive the Café Plus How-To Manual with valuable templates designed to help you create a Café from the ground up.