CHANGE

lives, including yours
Be part of something extraordinary
Imagine being able to impact the lives of people just by doing what you love to do. Maybe it's making a meal that will make someone's day. Or perhaps it's helping to organize a hands-on class that touches someone's life.
At Mather LifeWays, we believe in creating unique opportunities and exciting possibilities—both for the older adults we serve and the professionals we employ. That means we're committed to providing a healthy culture of personal growth where you can reach your full potential.
Our organization offers employment opportunities in the three key areas of service: senior living residences, community-based initiatives, and our Institute on Aging. Together, these areas of service employ an all-star team of 500+ professionals, ranging from workflow gurus to housekeepers, culinary staff to concierges, CNAs to building services pros. Every member of this diverse group supports Mather LifeWays mission of enhancing the lives of older adults by creating Ways to Age Well.SM
All who visit, live, and work here will be free to be confident, creative, and curious. Free to be surprising, strong, and secure. And free to be reinvented, renewed, and restored.
Changing someone's life is the opportunity of a lifetime
Explore Possibilities at Mather LifeWays
Find where your talents can take you in a supportive, fun, and fulfilling workplace
We're constantly looking for talented professionals to fill a variety of positions including:
Nursing Jobs
Server Jobs
Housekeeping Jobs
Visit Our Jobs Site
Meet coworkers who feel like family. Find a place to work that feels like home.
Headquartered in Evanston, Illinois, Mather LifeWays offers employment opportunities at our main offices, residences in Illinois and Arizona, and community programs in the Chicagoland area.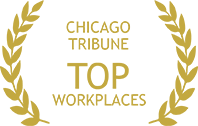 Here's to your health and happiness
Mather LifeWays values employees and is serious about supporting their health and professional development. We've been named one of "Chicago's Top Workplaces" by the Chicago Tribune for four years in a row, and have been recognized as Illinois' Healthiest Midsize Employer.
Mather LifeWays Snapshot
In 2017, Mather LifeWays enhanced the lives of 153,699 older adults (directly and indirectly)
Non-denominational not-for-profit
Strong financial status ($446 million in net assets as of 12/31/17)
Founded in 1941
Approximately 575 employees
Headquartered in Evanston, Illinois, with senior living residences in Evanston and Wilmette, Illinois, and Tucson, Arizona; neighborhood initiatives in various Chicagoland locations
Contact Mather LifeWays
Interested in learning more about open positions at Mather LifeWays, or have questions about applying for a position? Contact us!
Working at Mather LifeWays has made a significant impact in my life. I work with the most awesome team anyone could ever work with. We work together better than any proverbial well-oiled machine. I have also seen a significant improvement in my health, attitude, and general outlook towards my own Aging Well.
Mather LifeWays is an equal opportunity/affirmative action employer. All qualified applicants will receive consideration for employment without regard to sex, gender identity, sexual orientation, race, color, religion, national origin, disability, protected Veteran status, age, or any other characteristic protected by law.