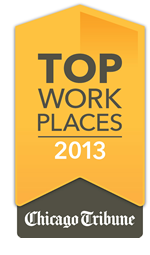 Mather LifeWays is an award-winning workplace that strives to provide memorable and extraordinary experiences for its workforce by inspiring a stable, healthy culture of personal growth and a commitment to our company's mission of creating Ways to Age WellSM.
Mather LifeWays was named one of "Chicago's Top Workplaces" by Chicago Tribune in 2010, 2011, 2012, and 2013; named Illinois's Healthiest Midsize Employer in 2013 and 2014; received the 2007 American Association of Homes and Services' Excellence in the Workplace Award; and was recognized in 2007 with the Health at Work Silver Award.
Our commitment to serving older adults is equaled only by our commitment to attracting and retaining approximately 500 valued employees. In addition to providing a generous benefits package that includes medical, paid time off, 401(k), tuition reimbursement, and more, many other value-added, innovative, and progressive employee programs align with the Mather LifeWays mission of creating Ways to Age Well.
Discover more about working at Mather LifeWays, and how you, too, can become a valued member of the Mather LifeWays team today.
       Mather LifeWays is an equal opportunity/affirmative action employer. All qualified applicants will receive consideration for employment without regard to sex, gender identity, sexual orientation, race, color, religion, national origin, disability, protected Veteran status, age, or any other characteristic protected by law.